Schedule
Saturday 15. June
2.30 p.m. – 6.00 p.m. Tröma Nagmo Chöd empowerments
Please note the empowerments take at least 3.5 hours
Sunday 16. June
10 a.m. – 12 p.m. Origins and importance of Chöd
2.30 p.m. – 4.30 p.m. Teaching on a concise Chöd practice
Ngakpa Karma Lhundup Rinpoche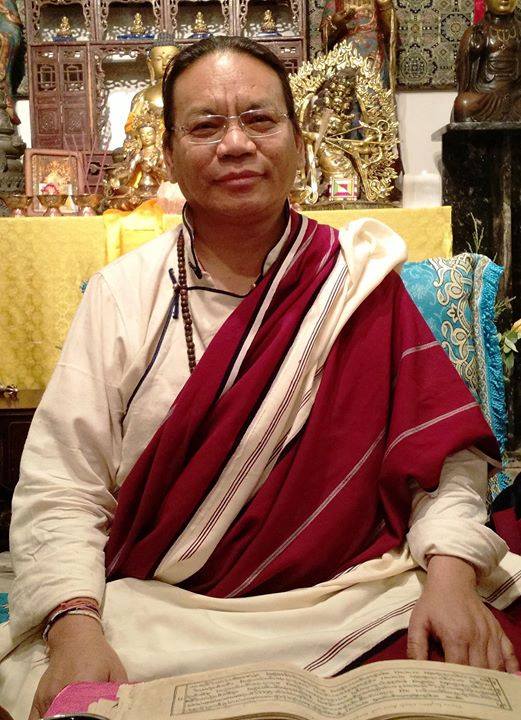 Ngakpa Karma Lhundup Rinpoche is a ngakpa (lay yogi practitioner) of the Nyingma lineage of Tibetan Buddhism. His teachings are simple, direct, humourous and applicable to everyday life.
He specialises in the Dudjom Tersar and the Dzogchen traditions of meditation, and performs various ancient Tibetan rituals, rites and ceremonies for living, dying and after death.
Rinpoche's Troma Lineage
1987 First time received the most elaborate empowerment of Tröma Nagmo Wangchen from Kyabje Ngachang Yeshe Dorje Rinpoche, later received from him three more times.
Rinpoche's has done three times the 3-years retreat of Tröma. Then received again Tröma Nagmo most elaborate empowerment from Kyabje Karti Lachung Rinpoche who has done four times the retreat of Tröma Nagmo. Then 3rd time received Tröma Ngagmo empowerment from Dorjechang Kyabje Dzongsar Khyentse Rinpoche.
Rinpoche will teach on the origins and importance of Chöd – a visionary Buddhist practice of cutting attachment to one's corporeal form.
The teaching will be held in English with translation to Slovak language.
Tickets
Please register and purchase a ticket.
Price: 25 € for the whole weekend
15 € concession for students and pensioners
Accommodation: We have a few shared rooms (2 people) with private bathroom in our center. If you like to stay in our place, please let us know. The price is 25€/person per night.